Our business is built on creating and growing relationships with our customers. We strive to be more than a tech support vendor; we want to be viewed as a business partner who solves problems. To do that, we invest time and resources into selecting the vendors that we partner with to allow us to deliver solutions that include products that are reliable, and available at a cost that benefits our customers. In 2022, the interest from our customers in audio-video solutions for both homes and offices has grown. To meet those needs, CatchMark Technologies has partnered with Atlona for audio/video products.
Why Atlona?
Atlona prides itself on being an agile company that develops innovative and reliable products to solve the challenges facing today's AV industry. They have backend support available if needed which is not available when purchasing equipment online or from a big box reseller. They also have training available for our staff so we can learn directly from them how to install and configure the equipment. They even make some training required before a partnership is an option.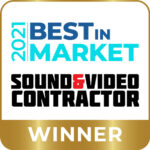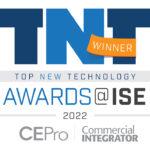 Solutions
Huddle Space
Simple meeting room with a single display. USB camera and USB speakerphone are available for conferencing via platforms such as Zoom or Teams from the user's laptop. System operation is fully automated. Users connect their computer via a USB-C or HDMI and the system turns on the display and selects the correct input. When users disconnect, the system shuts down.
Single Display Conference Room
Meeting space for larger groups with a single display. Inputs are available at the table for connecting devices as well as an input for the room PC installed at the display. A USB camera and USB speakerphone are available for video conferences hosted on user laptops or the room PC. System operation is fully automated. Users connect their computer or log into the room PC and the system turns on the display and selects the correct input. When users disconnect or log off, the system shuts down.
Dual Display Conference Room
Meeting spaces provide a chance for people to collaborate, sharing designs, plans, and viewpoints. Dual displays allow presentation from multiple sources, or simultaneous display of shared content and remote participants during video conferences. USB camera and USB microphone are available for conferencing. Inputs are available for connection of user or room sources. Touch panel controls provide convenient access to the system on / off, audio levels, source selection, camera presets, and more.
Video Wall
Video walls are a great way for businesses to communicate their vision and values when installed in the corporate lobby. They can also be used for advertising, wayfinding, safety instructions, and other digital signage applications. Video walls are constructed using multiple flat panel displays and require sophisticated video processing for displaying a single large image, multiple smaller images, or anything in between. Touch panel controls handle the system on / off as well as the layout of content on the wall.
Retail / Hospitality
Delight restaurant and bar patrons with high-resolution video on multiple screens. Allow retail showrooms to reach shoppers with high-impact in-store messaging to entice customers into a purchasing decision. All channel selection and routing are handled by an easy-to-use touch panel interface.
Entertainment Space
In today's content-rich world, there is always something available to watch – often multiple shows or sporting events at the same time. Combine that with the dramatic decrease in the price of TVs, and entertainment spaces are now being built with multiple screens to display different content at the same time. As 4K resolution and high dynamic range (HDR) become standard, AV equipment needs to handle these and other requirements such as reliability and ease of use. The goal is to enjoy the AV without it detracting from the interior design, so the solution must also be easy to install and hidden from view.
The Atlona Opus™ Series is the essential, no-compromise 4K HDR distribution solution for premium residential installations requiring whole-house AV distribution. With Opus, rest assured that you'll be using the latest in video technology – high dynamic range (HDR) – today and for years to come.
Whole Home Distribution
Homes today have flat-panel TVs in virtually every room. With all these TVs come unsightly black boxes, cables, and other equipment. Interior decorators absolutely hate them. Redundant set-top boxes and other sources for every room in the home are unattractive, costly, maintenance intensive, and reduce available living space. Remote controls usually come with these devices and are different for every room, which only confuses the homeowner. Atlona's matrix switchers allow any source to be routed to any television in the home. All equipment is centrally located and becomes a shared resource where it is out of sight, which maintains the elegance of the home. System service is easier since all hardware is centrally located.
Interested in more information or a free estimate?
Reach out to us via email or phone and one of our certified experts will assist you in determining what solution is best for your needs.
616-384-4616 or [email protected]