The Number One Threat to Your Business
The world of technology is continuously evolving. We see a rise in the Internet of Things (IoT), remote work, and the adoption of Software as a Service (SaaS) over traditional in-house applications. Yet many organizations adapt their technology without guidance or direction from professionals in Cyber Security, IT, procurement, or risk. Whether through a security assessment, implementing processes, writing/updating policies, or managing the cyber security program, CatchMark wants to help our clients improve their cyber hygiene in each critical area: People, Processes, and Technology. As technologies shift, so does the threat landscape. Protecting an organization and its data from Ransomware attacks, Phishing, Denial of Service, and Insider threats is critical.
Cyber Assessments
The starting point for most organizations, the goal of security assessments are to identify and quantify the risks to an organization's information assets. The knowledge gained here helps create a blueprint for all future actions. CMT has a mature process, expertise, and tools to make this effort seamless so organizations have a clear risk picture.
Security Consulting
Security consulting takes place throughout the process, however, it typically begins after your security assessment completes. Organizations are presented with a picture of their risk and are often overwhelmed. CMT helps to make sense of the data and plan for the future.
Security Operations
Once established, the goal of a cybersecurity program is to continuously protect your data. To do this, security operations must be prioritized and maintained. Most organizations lack the manpower and expertise needed to properly conduct operations. CatchMark has the expertise to manage the overall cybersecurity program as a business function, or fill a specific cybersecurity gap.
Security Establishment
 Upon completion of an assessment, organizations realize that cybersecurity involves more than just technical solutions. The most effective way to ensure your data is secure is the establishment of a cybersecurity program. CMT provides the blueprint, assists with implementation, and does it all utilizing cutting edge tools to make the effort as seamless as possible
The CatchMark Cybersecurity team is second to none, individual team members have decades of experience, and hold countless professional credentials.
Ready to test the security awareness of your employees? Sign up to schedule a free phishing test.
Sign up to receive free ransomware hostage rescue manual and attack and response prevention checklist.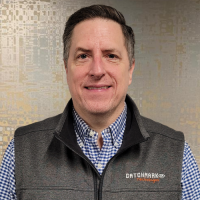 Brian joined CatchMark Technologies in October 2021 as a Cyber Security Specialist. He brings 12 years of Cyber Security experience working with NIST Standards and managing diverse programs for the Department of Defense. His experience in establishing and maintaining Cyber Security programs will be a benefit to our client base and will assist them with meeting their Cyber Security requirements.