Word of mouth is extremely important in many industries, ours included. There is nothing better than having a new customer tell you that one of your existing customers said to call CatchMark.
The core of our business is the delivery of technology services to small and medium companies, but we strive to be more. We strive to over-deliver for our customers, build trust with our customers, understand our customers, solve our customer's problems, and deliver secure, stable, and inventive solutions to all customers.
Most of those happen daily if not all of them throughout interactions with our customers. In late October, the opportunity presented itself for us to demonstrate our ability to combine them all into a single situation. Our Team accepted the challenge and knocked it out of the park for our customer!
Late on Thursday afternoon, a customer contacted us on behalf of another business in their building. The neighboring business had been working on moving into their suite for a few weeks. The end was near but there was a problem, a HUGE problem. The internet connection for their suite had been delayed, by weeks and maybe months. Without this connection, the business would be unable to fully operate at the location. In speaking to our customer, the suggestion was made to contact CatchMark and see if they can solve this problem. Challenge accepted!
Friday morning CatchMark had Ethan Goodsell, Sr. Networking Engineer, onsite to meet with the potential new customer and evaluate the situation. Having a knowledge of the building and what the customer needed from the Thursday conversation there had already been calls made and emails sent to determine if the materials believed to be needed could be sourced and if so the timing. After the onsite visit was complete, Ethan confirmed the materials list and verified availability. Combining that information with the steps that needed to be completed the estimate for the customer was created and sent over.
Ethan had come up with a solution and provided the estimate to the customer. If the customer approved the estimate by 5:00 Friday, CatchMark could have the materials in hand to start the installation Tuesday and have it completed by the close of business Wednesday. He had also figured out a way to free up resources from our team to assist and not delay other projects. Between 4:30 and 5:00 Friday the estimate was approved.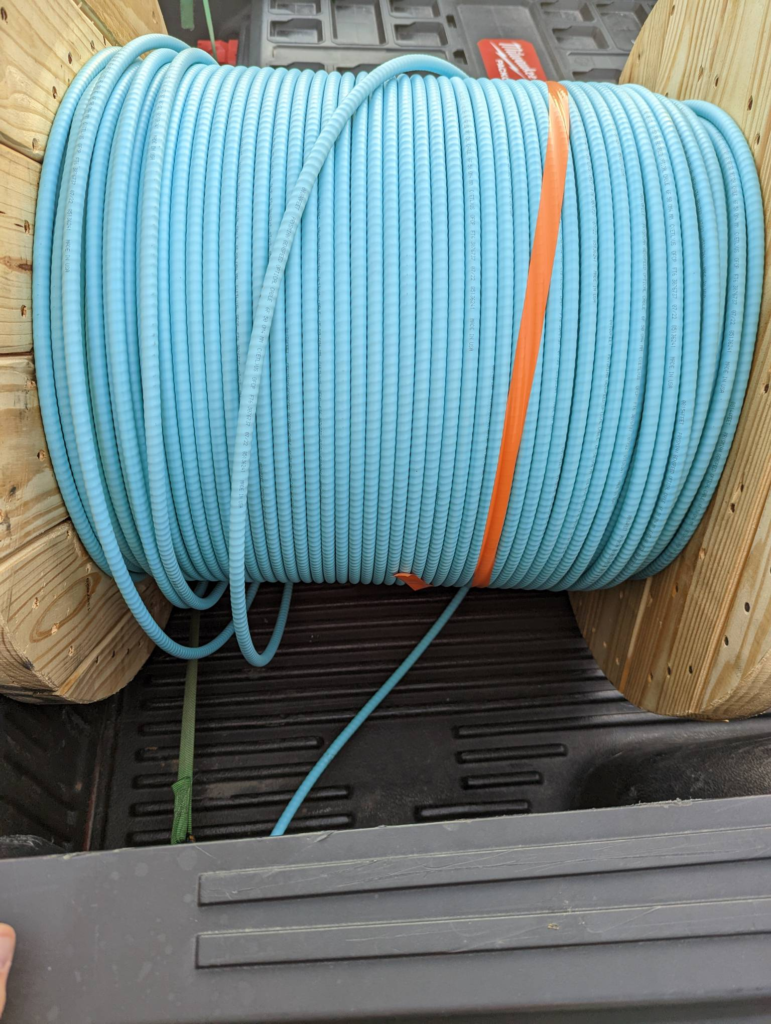 Fast forward to Tuesday morning, Ethan had secured the only spool of fiber optic cable with enough cable on it in West Michigan for this job. He along with Bryce Raeth, Cabling Specialist, and Conner Raeth, Tech Support Specialist arrived on site and began. The day went as planned and when they wrapped up were on track to finish the installation Wednesday morning and then complete testing and verification. Wednesday Bryce and Ethan returned and were able to complete the final steps for the customer and do so 30 minutes under the estimated time for the project.
Not every project goes to plan regardless of how many times we have done it, how well the project is planned, or how hard we try to execute it successfully. When they do it is a great feeling for our customers and our team. Circling back to the start and the things we try to do:
Over-deliver for our customers
Build trust with our customers
Understand our customers
Solve our customer's problems
Deliver secure, stable, and inventive solutions
This project showed the CatchMark difference and why our customers appreciate what we do and when given the opportunity to spread the word about our services continue to do so.