To say we are thrilled is an understatement!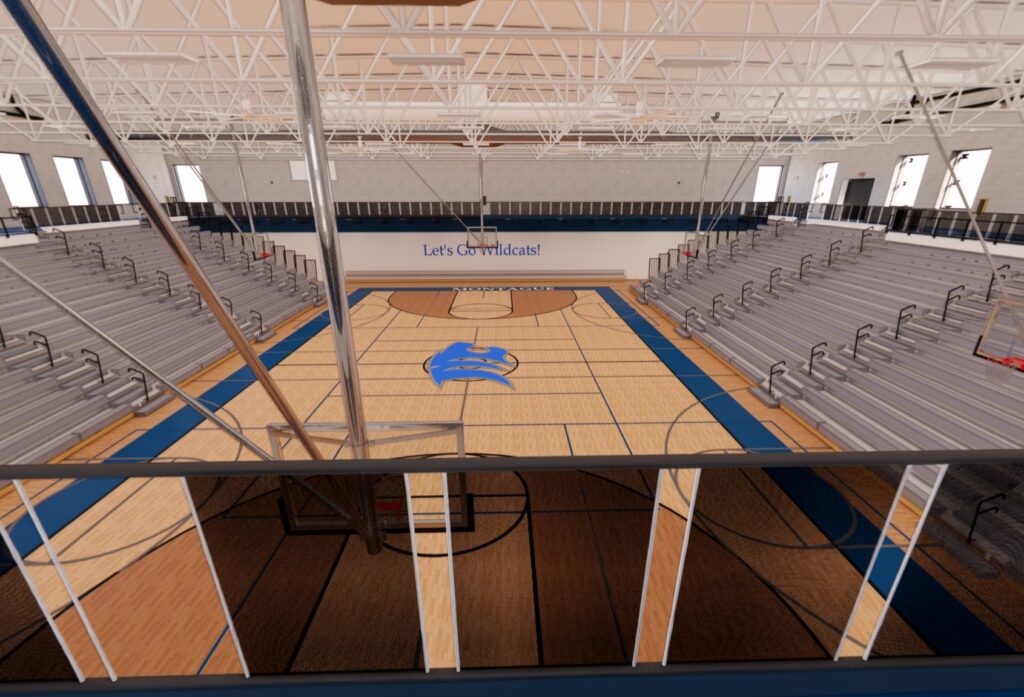 The history
CatchMark has been in business for 12 years and has had an office in Whitehall for more than four years. The history goes much farther back than that. CatchMark's partner group includes Rick Blauw, Brent Raeth, Chris Dawson, and myself, Jeff Burel. Three of us — Brent, Chris, and I — graduated from Montague a "few" years ago: Myself in 1994, Brent and Chris in 1995. Brent is the only one who still resides in Montague, but the White Lake area will always have a special meaning to all of us.
Timing
The new gymnasium is going to be amazing! The construction started in July and the target completion date is March 31, 2025. Between those dates, there will be many different contractors working together to bring this place to life!
The bid process
While CatchMark wanted to do this work and had no concerns about completing all of the requirements, these projects have a process for selecting vendors. Winberg Construction, with assistance from the Montague Area Public Schools Leadership, Technology, and Maintenance Departments, put together the requirements for the space.
There are many different pieces that make up the technology requirements for this space: Network cables and devices, security cameras, door access and security controls, scoreboards, PA system, and audio/video solutions for the gym and training spaces.
All of that was combined into a bid package and published for any interested vendors to bid on. Interested vendors had detailed and specific instructions to put their bids together. The bids were submitted in a sealed envelope and all were opened publically at a scheduled date and location.
Following the opening, interviews would be scheduled with companies selected as finalists. The selections for the finalists were heavily based on the lowest bidder but not exclusively.
The interviews then allowed for questions about the bid to be addressed and further discussions to determine if the finalists can perform what they submitted.
When the interviews were completed, the team selected the bid they would recommend to the school board moving forward. Approval by the school board is the final step to awarding the business.
Why CatchMark?
The process above was stressful! I put together proposals daily and have confidence in the abilities of the CatchMark team to execute any problem presented to us. We don't call ourselves "Technology Problem Solvers" and not stand by it! The stressful part was because I knew we were the right company for this work and the thought of another technology company doing this work for Montague didn't sit well with me.
I am fortunate to have great business partners. We pull together when needed and find solutions. This project included a new challenge … Brent! I'm not saying Brent has never been a challenge — anyone who knows him understands. This specific challenge was keeping him out of any discussions related to the bid. Brent currently serves as President of the Montague Area Public Schools School Board. Would his being involved influence any part of this process? We wanted to make sure there was nothing done to allow that.
We moved forward, without Brent but with the help of Ethan Goodsell, CatchMark Senior Network Engineer. Ethan put the bid package together and submitted it. Exhale!
The stress didn't stop there. Yes, the bid was in and that is exciting. How many bids will there be? Will we be the lowest amount? If not, close enough to be a finalist? What if we aren't? How do I explain that to my partners and team?
Two days after submitting the bid was the public opening meeting. As I sat in that room, my nerves continued to rise. Here we go! The first thing I learned is there are two bids: CatchMark and one other. I tried to determine what this means in my head. My answer was we are going to be first or last! Turn the nerves up a bit more.
As the bids were being opened, I knew my number and just wanted to hear the other number. No such luck yet. My bid was randomly selected to be opened first. It took a few minutes for it to be reviewed, which felt like hours. Finally, it was time for the other bid to be opened. By this point, I couldn't believe I hadn't passed out. The bid was opened, reviewed, and just when I thought everything was coming to an end, the details of that bid were shared.
It was a partial bid … a what? The bid package included seven areas and this vendor submitted a bid for some of them. I had no idea what this means for CatchMark. That wraps up the meeting. I had so many questions — the first one being, "Can I ask questions?" Thankfully, an explanation was given. CatchMark was the only bid to include everything and we would be a finalist.
The waiting and stress continued from Thursday at 2:30 p.m. to the following Tuesday at 11:00 a.m. I figured that being the only bid for some of the work, we would get awarded that, but could we get everything? On Tuesday, I found out the answer was yes. At the finalist meeting, after answering some questions, I was informed that the recommendation to be presented to the school board is to award the entire tech bid to CatchMark.
Awesome! Oh, that meeting is six days away?
The school board approved, and Brent recused himself from voting.
Go time
That process aged me, but in the end, we met our goal to win the work. Over the next 20 months, we will execute this project.
I speak for the CatchMark partner group and team when I say we are looking forward to being part of this project and for as long as that gym stands, knowing that we were able to be a part of it and help the school and community.
Hail Montague! Rah Rah!